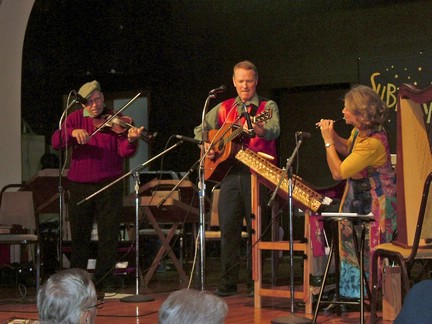 Sonas
"Sonas" was first organized in 2002. The group put together a few tunes for a small Celtic party. It was so much fun they decided to make it a permanent thing.

"Sonas" is a Gaelic word that loosely translated means happy or content which is how the group feels when they play.

Tom said, "Whether it is a folk festival, a private party, a full blown ceilidh, or just a back yard jam we really enjoy each other's company and musical abilities."

They are fun and lively. Their unique sound earns them the approval of audiences wherever they play.
The Music of Sonas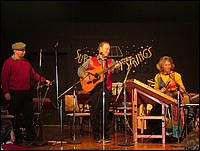 Sonas has quickly become an extremely popular Celtic group. Audiences are enthralled with their music, which includes up-tempo jigs and reels, as well as lovely sea shanties and beautiful waltzes.

The group features Dee Dee Tibbits on hammered dulcimer, whistle, hurdy gurdy and a multitude of other instruments; Bruce Macartney on fiddle, guitar and concertina; and Tom Krause on guitar, mandolin, bouzouki and bass. They also include vocals where the three voices blend beautifully.
Their Performance Style
The style of Sonas is fun and friendly. It's obvious that they love performing. Each performance fits the audience. You may find yourself humming along, or captured in the excitement of flying dulcimer hammers, agile bowing, and lively rhythm.
You'll Want to Keep Them!
There's no better entertainment than a live performance of Sonas. If you click on the "Sound Samples" link you can hear sound clips from an actual performance. But for more permanent enjoyment, you can click on "Purchase a CD" and order a CD of their music.

The music that is playing in the background is Dee Dee Tibbit's original composition, "Bryson Hall Waltz," from the Sonas "Timeless" CD. (You can purchase the CD by clicking on the "Purchase a CD" in the menu above.)